Welcome to the 10 Best Cars line-up of 2020.
This list is made based on our personal opinions. Cars on this list are not the best at speed, acceleration, or any other specifications. They are just some awesome cars with brilliant appearances and incredible performances.
BUY BEST AFFORDABLE WEB HOSTING WITH FREE DOMAIN FOR $20/YEAR
Let's finish the introduction and get to the list real quick.
These are 10 of the best cars you will buy in 2020.
10. Lamborghini Huracan EVO RWD ( $208,571 )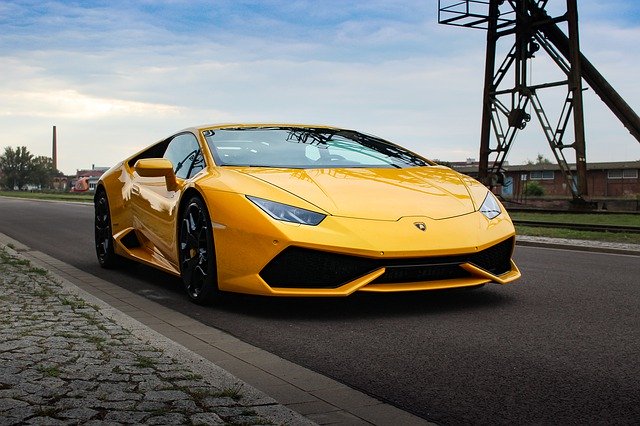 Lamborghini has updated the Huracan line up with the new Huracan EVO RWD, a model that Lamborghini says is focused around providing a more engaging and entertaining experience for the driver.
The Huracan EVO rear-wheel-drive puts the car in the driver's hands: the driving experience is delivered by the hardware.
This car reminds the driver of Lamborghini's pure engineering origins. It has some reduced specs compared to its predecessor in order to keep all that power a little tame considering it only has two wheels to travel through.
It has 602 horsepower and a top speed of 325km/h (202 mph). According to Lamborghini, the Huracan EVO RWD can hit 100 km/h in 3.3 seconds and 200 km/h in 9.3 seconds.
9. Ford Mustang Shelby GT500 ( $72,900 )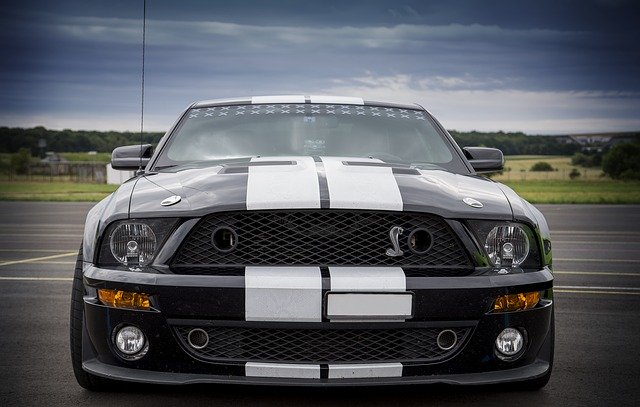 The Shelby GT500 returned in 2019 after a five-year hiatus.
The first iteration of the sixth-generation Mustang to sport a supercharged V-8 engine, this GT500 is also the most powerful street-legal Ford, even when compared to the Ford GT supercar.
This beast is available for $70K but if you buy Carbon Fiber Package, it will add $18K to the prize. There's also a Technology Package for an additional $3K which adds power seats, a better sound system, and blind-spot monitors.
Ford wanted the new GT500 to dominate at the drag strip and road course, and for that, limited its speed to 290 km/h (180 mph).
Although 2020 Shelby is slower than its predecessor by 35 km/h (20 mph), it won't have any trouble doing a quarter-mile in 11 seconds. Additionally, it is able to sprint to 100km/h in 3.7 seconds.
8. Chevrolet Corvette Stingray ( $69,480 )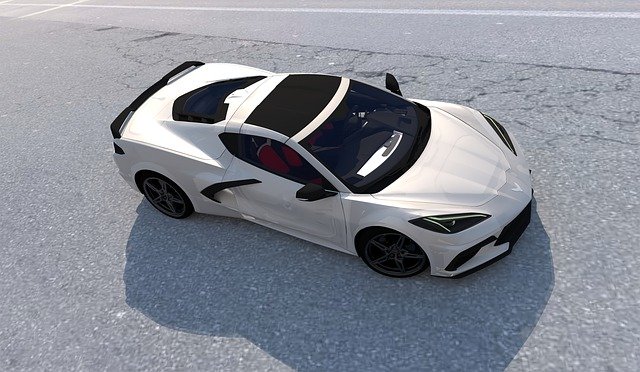 It is the eighth generation of the Corvette sports car produced by American automobile manufacturer Chevrolet. Also known as Corvette C8, it is the first mid-engine Corvette since the model's introduction in 1953.
Its base price is $58K and it is capable of generating 490 hp pushing it to a top speed of 312 km/h (194 mph).
As for the acceleration, Chevrolet claims that the C8 can accelerate to 100 km/h in around 3 seconds. It can also clock a quarter-mile in 11.2 seconds, beating the previous generation models with ease.
Mid-engined or not, the Corvette will always be a relatively attainable sports car.
7. Toyota GR Supra ( $50,920 )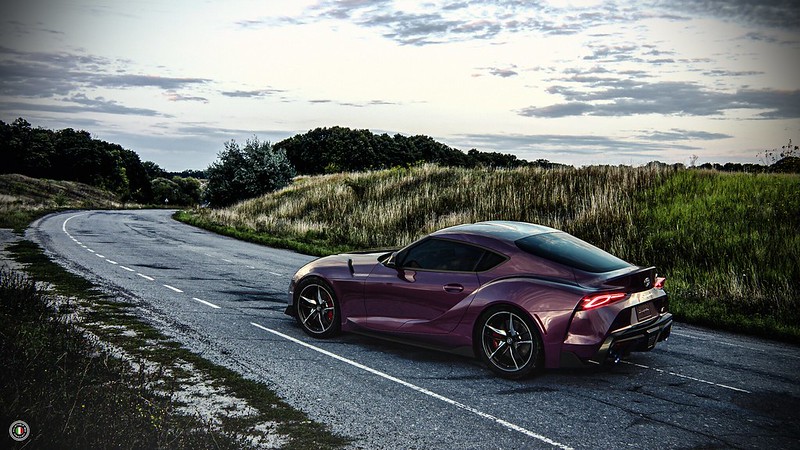 Toyota ranks 7th among the best cars of 2020. Toyota GR Supra is an all-new Toyota model.
It is a two-seat sports coupe manufactured by the Japanese company Toyota in collaboration with BMW. Its engineering is based on BMW Z4 however the bodywork is completely Japanese.
In stock form, it will run from 0-100 km/h in 4.2 seconds on its way to an electronically limited top speed of 250 km/h (155 mph).
Peel back the bespoke bodywork, and you'll discover the guts of the new 2019 BMW Z4, including its engine and gearbox. The new Supra is thus a curious mix of German and Japanese parentage.
The base models have been available since mid-2019 with a starting sticker of $50K. The more expensive Premium trim requires exactly $4,000 and gives you a premium JBL sound system and most advanced safety features.
6. Ferrari F8 Tributo ( $279,450 )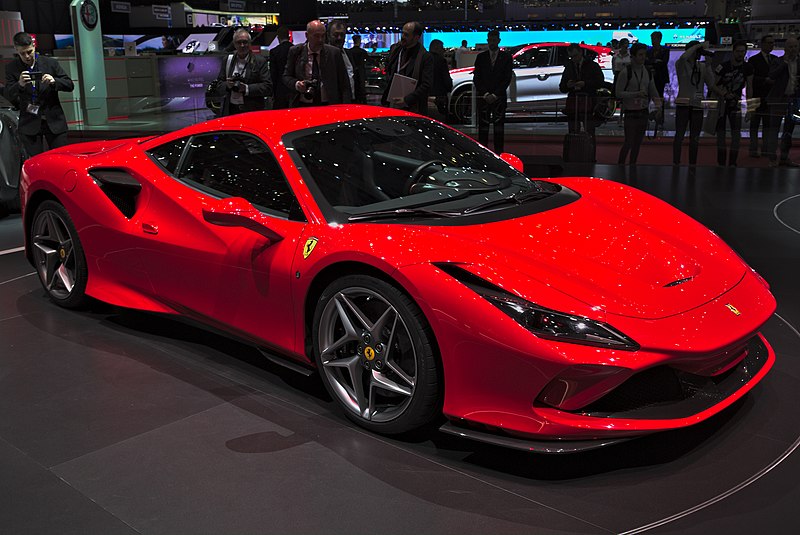 The Ferrari F8 Tributo is a mid-engine sports car produced by the Italian automobile manufacturer Ferrari.
The car is an update to the 488 Pista with notable changes. The upgrade is rather significant as far as design goes but there are also some upgrades in performance.
It is more powerful, lighter, and faster. It comes with a maximum power output of 710hp and a top speed of 320 km/h (199 mph).
In addition to that, it takes 2.9 seconds for F8 Tributo to sprint to 100 km/h and 7.6 seconds to hit 200 km/h (124 mph).
The Ferrari F8 Tributo is expected to be one of the most popular Ferrari models once it arrives at global markets towards the end of 2020 with a price tag of $290K.
5. Lotus Evija ( $1.9 Million )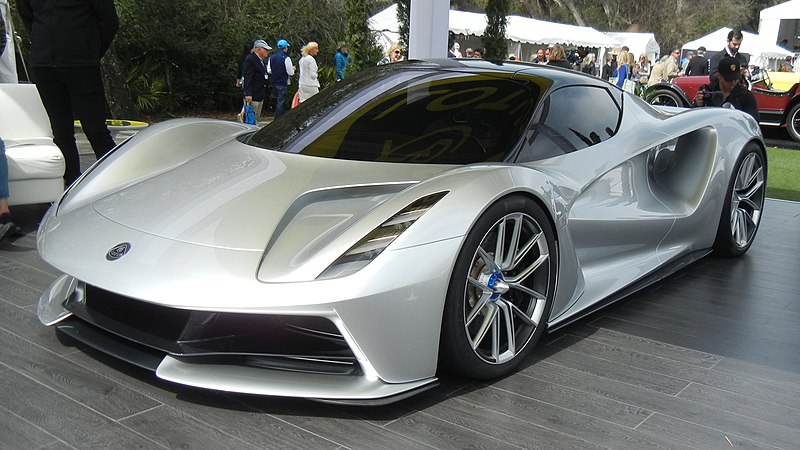 Lotus Evija is a limited production electric sports car manufactured by British automobile manufacturer Lotus. Its codename is 'Type 130' as the production of it will be limited to 130 units.
The four motors Evija has, generate 1970 hp in total and push this car to 100 km/h in under 3 seconds and 300 km/h (186 mph) in 9 seconds.
Car enthusiasts see Lotus Evija as a rival to Rimac C_Two and Pininfarina Batista due to their similar features, in particular, their hp's that are close to 2000.
Lotus says it is the most powerful car ever to enter production. Being the lightest car in the 'EV hypercar' segment, it can reach a maximum speed of more than 320 km/h (199 mph).
Another Lotus trait is aerodynamics, so on this car, we have an interesting way of managing airflow. It comes with a battery pack that can accept an 800kW charge.
Such a charger is not available yet commercially, but once your local fast-charger network operator gets there, the Evija will be able to fully replenish its cells in 9 minutes.
Hooked onto an already accessible 350kW charge, the Evija's charge time will be 12 minutes to 80 percent, and 18 to full.
Lotus is aiming for a range of 400 km (250miles), which would make the Evija more usable in daily traffic. These specifications the Evija has, make it cost around $1.9 Million.
4. Pininfarina Battista ( $2.5 Million )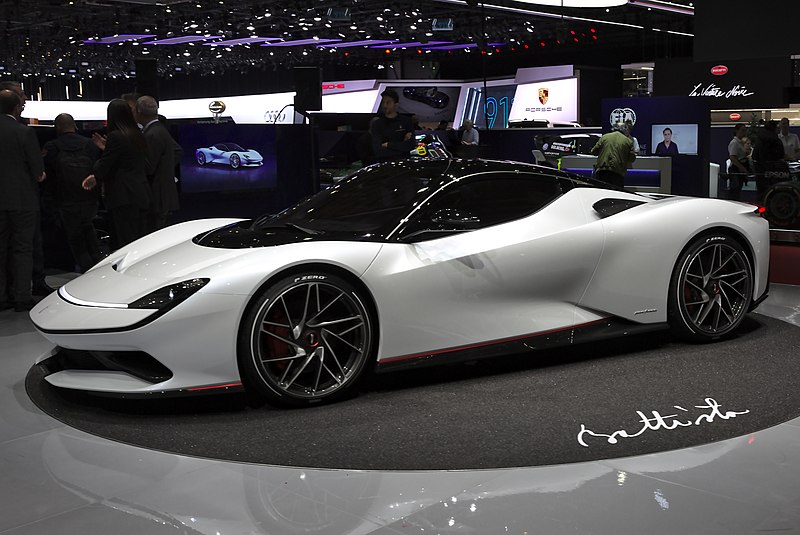 It is an electric hypercar manufactured in Germany, with roots in the Italian car design firm and coachbuilder Pininfarina.
It maxes out at 350 km/h (217 mph), falling 65 km/h (41 mph) short of Rimac C_Two. Interestingly, the Battista is built upon the latest EV platform from Rimac, meaning that it is Rimac that has developed the powertrain and battery tech for Pininfarina.
We know that this electric hypercar should be able to generate as much as 1,900 horsepower thanks to four electric motors it has. And with all that power it can go from 0 to100 km/h in under 2 seconds, and to 300 km/h (186 mph) in 12 seconds.
Having a claimed range of 450 km (280 miles), this beast retails at $2.5 Million.
3. McLaren Speedtail ( $2.25 Million )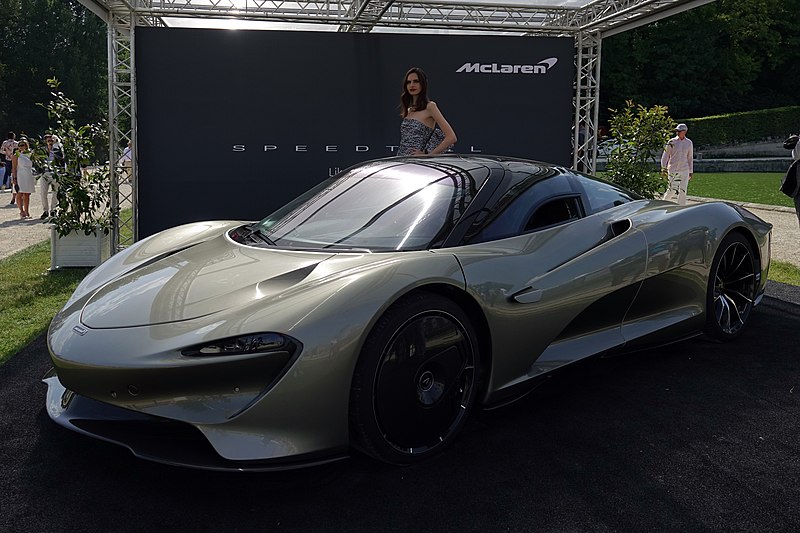 You're looking at the spiritual successor of the Mclaren F1. McLaren has, perhaps, become a bit soft in recent years so, a new hypercar was needed to put the automaker back in headlines and the all-new Speedtail answered the call.
Powered by a hybrid drivetrain generating 1036 hp, it will likely be the fastest, most powerful, and most aerodynamic McLaren built to date.
One of the coolest things about it is the central driving seat, a feature borrowed from the iconic F1.
The interior is mostly furnished in leather, carbon fiber, and touchscreen displays, while the exterior was designed with only one thing in mind – speed.
Speaking of which, it is claimed that the Speedtail has a top speed of 403 km/h (250 mph) and can accelerate from 0–300 km/h(0–186 mph) in 13 seconds which actually makes it almost a full second quicker than the original version of Bugatti Chiron.
Most details of the car are still being kept from us which doesn't disturb me and it shouldn't disturb you either since it'll be delivered to only 106 people. When it comes to its price, it goes for more than $ 2.25 Million and all units have already been spoken for.
2. Porsche Taycan ( $150,900 )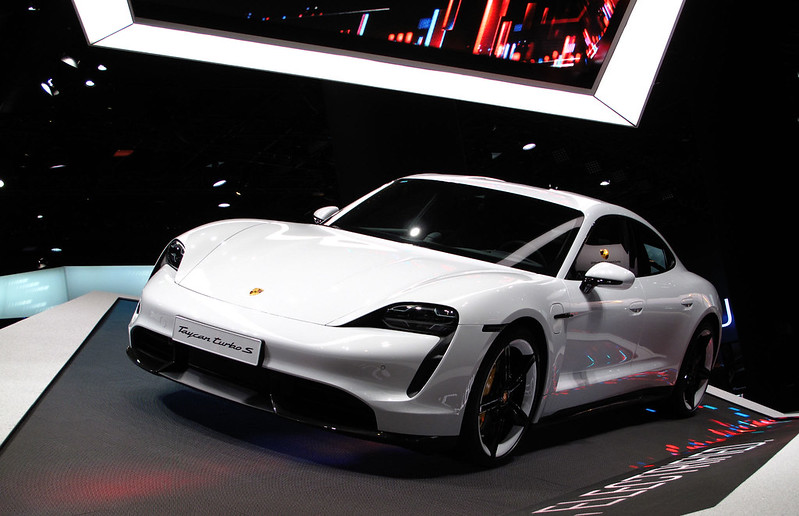 It is Porsche's first production electric car and is planned to be sold in three variants of different performance levels.
Their names are 4S, Turbo, and Turbo S but we will focus on the Turbo S model as it is the most powerful of them. By the way, it's not really a turbo, that name indicates more of a performance level.
The Turbo S drives all four wheels with two electric motors just like its brothers. The only difference is the amount of horsepower it produces and it is 751.
With all this power it is capable of accelerating from 0 to 100 km/h in 2.8 seconds.
Porsche claims that its range will be around 400 km (250 miles) and the battery pack can be charged from a 5% state of charge to 80% in 22 minutes in ideal situations, with a DC fast charger offering 270 kW of power. And lastly, the Turbo S model will be capable of achieving a top speed of 260 km/h (162 mph).
If you consider how good this car's spec sheet is, it shouldn't surprise you that its price starts from $150K.
1. Rimac C_Two ( $2 Million )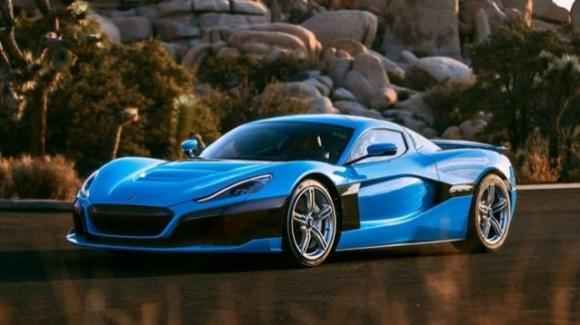 This is an all-electric hypercar designed and manufactured by the Croatian automotive manufacturer Rimac Automobili.
Speaking of hypercars and Rimac in particular, the Croatian EV hypercar company rocked the automotive world by revealing their latest model at the 2018 Geneva Motor Show.
Rimac plans to produce 150 vehicles and is currently in the process of homologation for the global market. Each of those units was sold for $2 Million.
It features a full carbon-fiber body, electronically controlled dampers, face recognition technology, and level 4 autonomous driving with artificial intelligence.
The most important detail of the Rimac C_Two is its performance. The company claims that this monster can hit a top speed of 415 km/h (258 mph).
With a combined power output of 1914 hp generated by four separate electric motors, the car is able to accelerate to 100 km/h (62 mph) from a standstill in only 1.9 seconds, making it potentially the fastest accelerating car ever made.
When it comes to battery packs, range per charge is claimed to be 550 km (340 miles) and it can be charged to 80% in less than 30 minutes.
So, which car you love the most and planning to buy. Comment below if u love the information or want me to upload more on Cars. Share this post, it will motivate me to create more posts like this for free.