Today we're sharing with you the Top 10 new hairstyles for men that'll be INSANELY popular in 2019 and 2020. Don't get us wrong though… A lot of these styles were popular previously.
These 10 Hairstyles and Haircuts attract 99.9% of girls because they love these hairstyles and haircuts on men.
So if you're already rocking one of them, you're in the clear. But don't be afraid to try something new this time around. Because the thing is, all of these hairstyles are interchangeable with each other, and can actually be combined to help you create a truly unique and fresh look.
So whether you already know what you want or are completely clueless as to what hairstyle is right for you. This article will help you find some inspiration that will allow you to sculpt your mane into a masterpiece.
BUY BEST AFFORDABLE WEB HOSTING WITH FREE DOMAIN FOR $20/YEAR
Here are the top 10 new hairstyles for men in 2019/2020:
10. The Crew Cut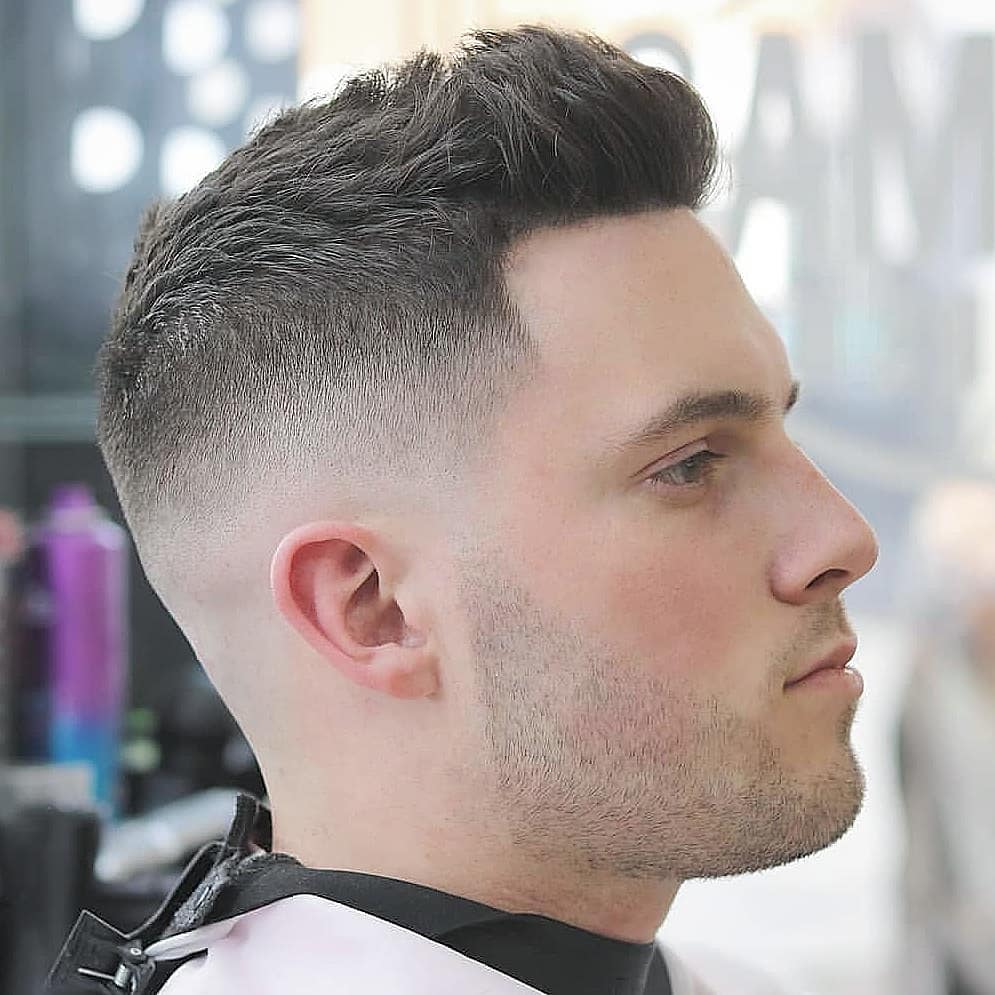 Before you think, every hairstyle in the modern age has to make you look like a paintbrush, you couldn't be more wrong.
That's because the Crew Cut is a short-to-medium length style that's usually accompanied by a high fade and can be accomplished with pretty much any type of hair. Straight hair, curly hair, wavy hair, frizzy hair, thin hair.
The Crew Cut is a versatile chop that's super low maintenance, So if you absolutely despise any sort of daily ritual when it comes to your hair. The Crew Cut will allow you to ditch the pomade and rock your bed head (just as long as you keep it shorter).
Plus, this style works well for pretty much all face types, but is best suited for square-faced men. For those of you without a square jaw and a more rounded face, a Crew Cut will still work.
But you'll have to have more length on top to help your face appear more narrow and in some cases, a lower fade (one that takes longer to get shorter) will actually work best at keeping your face symmetrical.
All in all, the Crew Cut is a safe bet and will look great even without spending an hour in front of the mirror. Plus,
"It's a lady killer when accompanied by a beard".
9. The Angular Fringe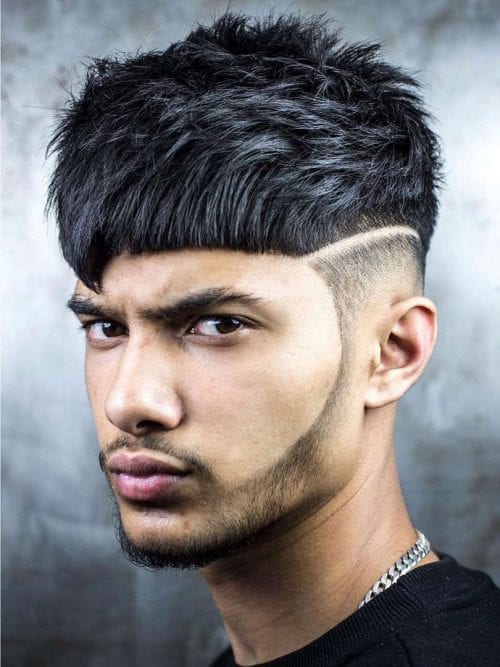 The Angular Fringe is a relatively newer hairstyle that you don't see too often but will definitely see this year, and if you're the type of guy with a bunch of weird cowlicks, it might be your best bet.
That's because the Angular Fringe is cut, well… An angle and a good barber will cut it with your cowlicks in mind, which will make styling your new do much easier.
All you have to do is follow the waves, and while it's a "longer-on-the-top, short-on-the-sides" style much like those quiffs and pompadours you couldn't escape from last season.
The Angular Fringe is most notably styled to sit over your forehead instead of swooped up above it, and since this hairstyle is so stylishly unusual and often textured, you can get away with it not being exactly how it looked the day you hopped out of the barber chair.
Of course, that doesn't mean you can go full bed head with this one. In fact, the Angular Fringe definitely takes some time to sculpt to get it where you want it.
Luckily it works for most facial structures and hair types, but just like every hairstyle, your hair may not be suited for that one specific look you want to have.
Regardless, the Angular Fringe is extremely versatile and can be combined with some of the other styles on this list. So if you're looking to try something new this year, the Angular Fringe is a bold statement that will definitely turn heads.
8. The Quiff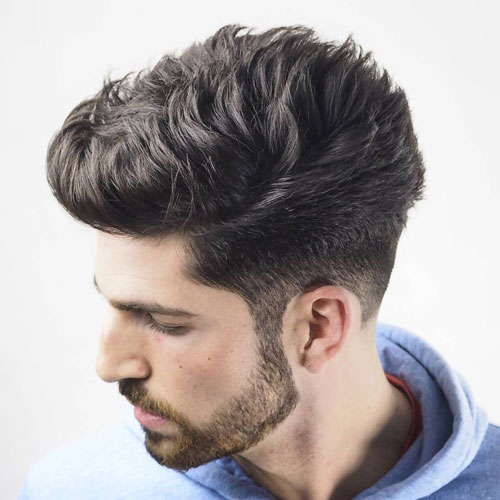 When we mention paintbrush hair, this is what we're talking about. The thick, voluminous hairstyles that take a lot of work to maintain. The reason hairstyles like these are so popular is because
"What kind of woman doesn't love running her hands through a man's thick mane?"
The Quiff is essentially a mating tool that shows women you have at least some good genes (your hair), and if we were birds, it'd be the equivalent of having the brightest plumage.
So if you're fortunate enough to be able to pull off 3-5 inches of lusciously thick hair, by all means, go for it because the Quiff is quickly becoming a timeless classic that consistently looks sexy and professional.
For those of you with wavy hair, it's possibly one of the most stylish 'do's you can get. Curly-haired gentlemen won't have much luck with it, and oval-shaped faces are definitely the best suited for it, (although any facial structure will work).
But if you meet the criteria to pull it off and can dedicate the time in the morning to making it look full and styled, The Quiff is a seriously smart choice in 2020.
7. Try Dye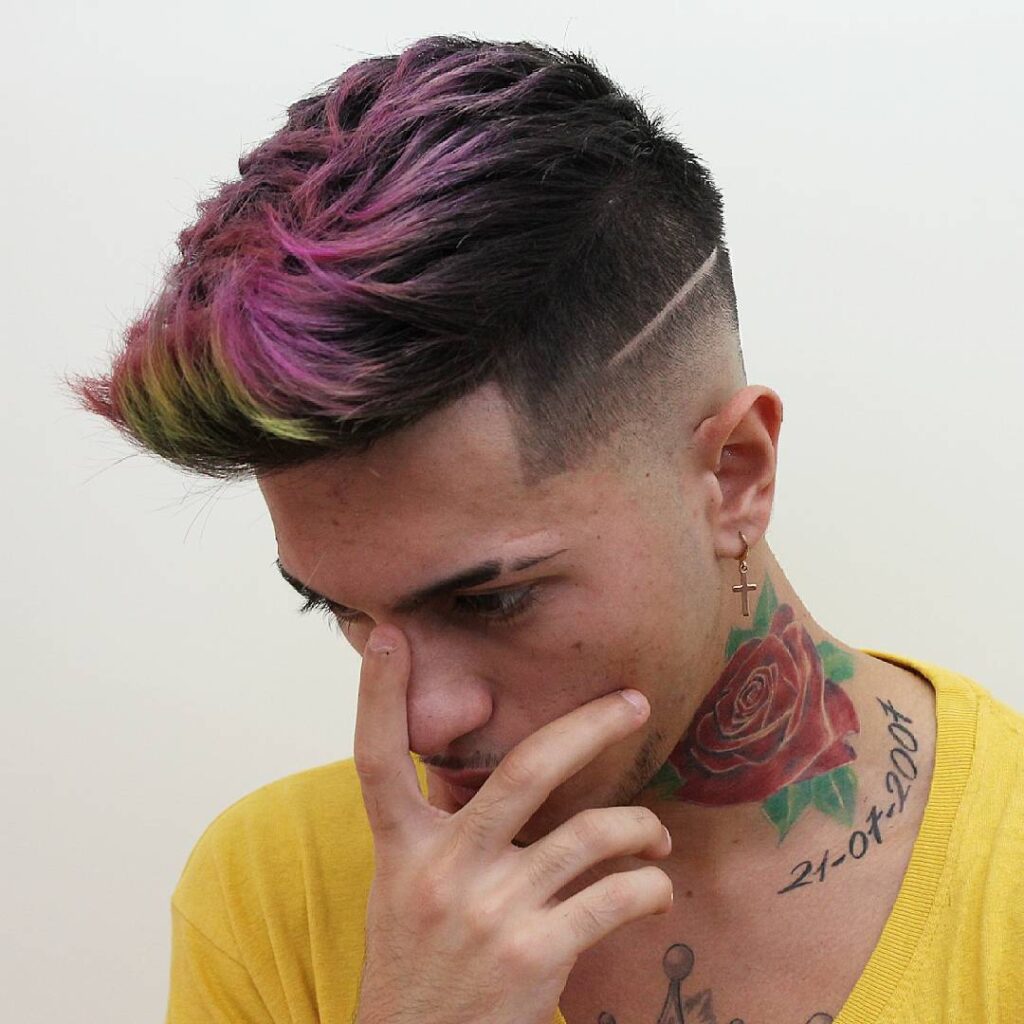 If you're tired of the same old hair color you've been stuck with since birth, it might be time to dye it!
Dyed hair has been increasingly popular over the last couple of decades, but in 2019 and 2020, the most popular colors are the ones that actually make you look older.
Platinum blonde, gray, and even pure white hair colors are increasing in popularity for men lately, and if your base color is of the darker shade, the contrast between the light and dark is a surprisingly stylish choice that works.
Don't get us wrong, it takes a bold man who's wildly confident to pull it off and not feel insecure about completely changing his hair color.
But if you're the type of man who's looking to make an adventurous change this season, Dyeing might be exactly what you're looking for.
6. The Classic Side Part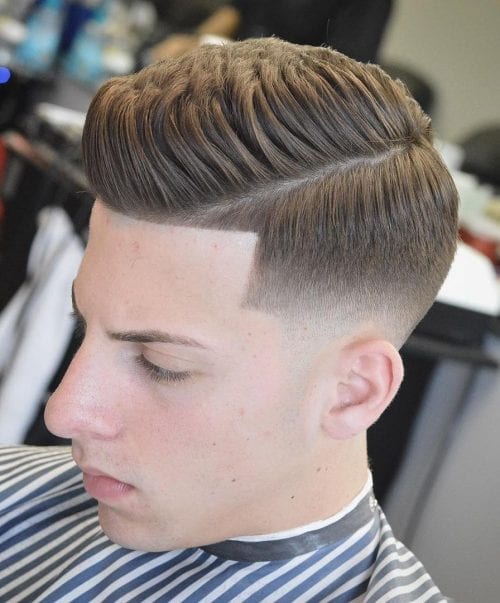 Fashion is cyclical, which means that certain styles that were popular 40+ years ago come right back into the limelight in the modern age, and while we don't expect parachute pants to ever be popular again.
The side part hairstyle never really became unpopular, because it truly is a timeless classic that's been around for over 100 years… It's just undergone minor alterations overtime to give it a more modern look.
The beauty of the Side Part is that its ideal for any man who wants to have a more professional look about him because not only does it look professional in and of itself, if you can't grow a beard, It's perfect for you because traditionally, beards were considered unprofessional and much of that sentiment is still found in today's corporate offices.
Plus, it's versatile enough that it works for literally any hair and face type. Short side parts look just as good as longside parts if they're styled correctly, and wavy or curly hair works just as well as straight hair when parted to the side.
The best part? Styling only takes a few minutes of combing both sides of the part away from the part. It's simple! You'll need a generous dab of wax to make sure your hair sits still, but other than that, it's just a quick comb, and you're off to the races looking like James Bond.
5. The French Crop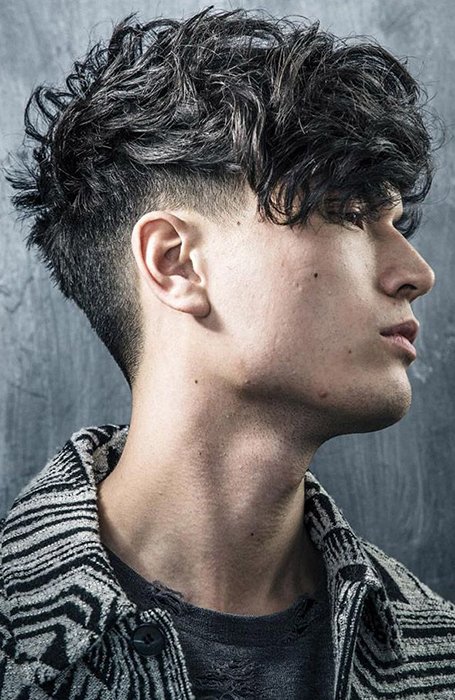 Another short style that doesn't require a ton of upkeep is the French Crop, which can be manipulated in a number of different ways and is essentially a take on the classic Caesar style from years past, just with a straight fringe at the front hairline.
Characterized by a short length with a bit of texture and sometimes messiness on the top, and plenty of room for improvisation on the sides and back fades.
The French Crop will keep your head cool and sexy looking in the Summer months without much effort on your part. Furthermore, it fits all face and hair types and only needs a tiny amount of wax or pomade to stay fresh and in place.
Pairing a French Crop with a beard can have some truly remarkable results as well – and if faded properly, can create one seamless transition in and out from the top of your head to the bottom of your beard.
The length is adaptable enough to be spiked, swept, or straightened to be whatever you want it to be that day. Other than a high and tight, the French Crop requires the least amount of work.
4. The High and Tight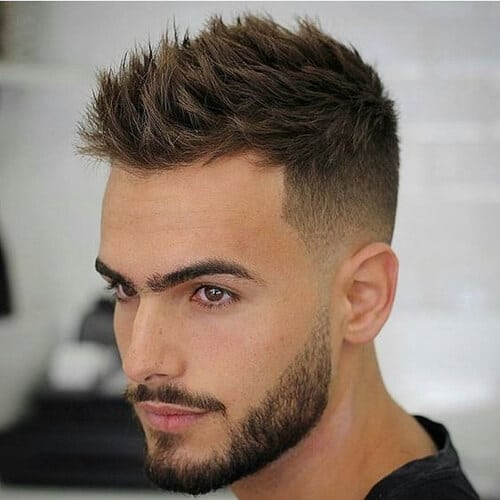 We know what you're thinking… How can super short hair be stylish AT ALL? Well, with the right barber, anything is possible, especially a high and tight.
This style is the #1 choice for military personnel for its simplicity and ease of maintenance. But when folks like David Beckham and BradPitt have rocked it, it's quickly become something more than just an Army haircut with countless variations.
Generally, a high and tight has no more than an inch on the top, but that's not where style comes into play. No, for a High and Tight, the style is all in the fade, and since you can do any number of things with a fade, like a hard part, undercut high-skin fade, or etched design.
The High and Tight is simply the easiest option for guys who want a sharp look without all the upkeep. Seriously, unless you keep the top a little longer than an inch, this hairstyle requires little to no product and mirror time.
Unfortunately, a high and tight can look a little wonky on square-faced gentlemen, so those of you who fit the bill might want to avoid it.
But since the hair is intentionally so short, curly and wavy-haired men will have no problem looking fresh. and if you're going for
"the bad boy look",
A High and Tight is probably the badest look of them all… Especially if you're covered in tattoos.
3. The Tapered Cut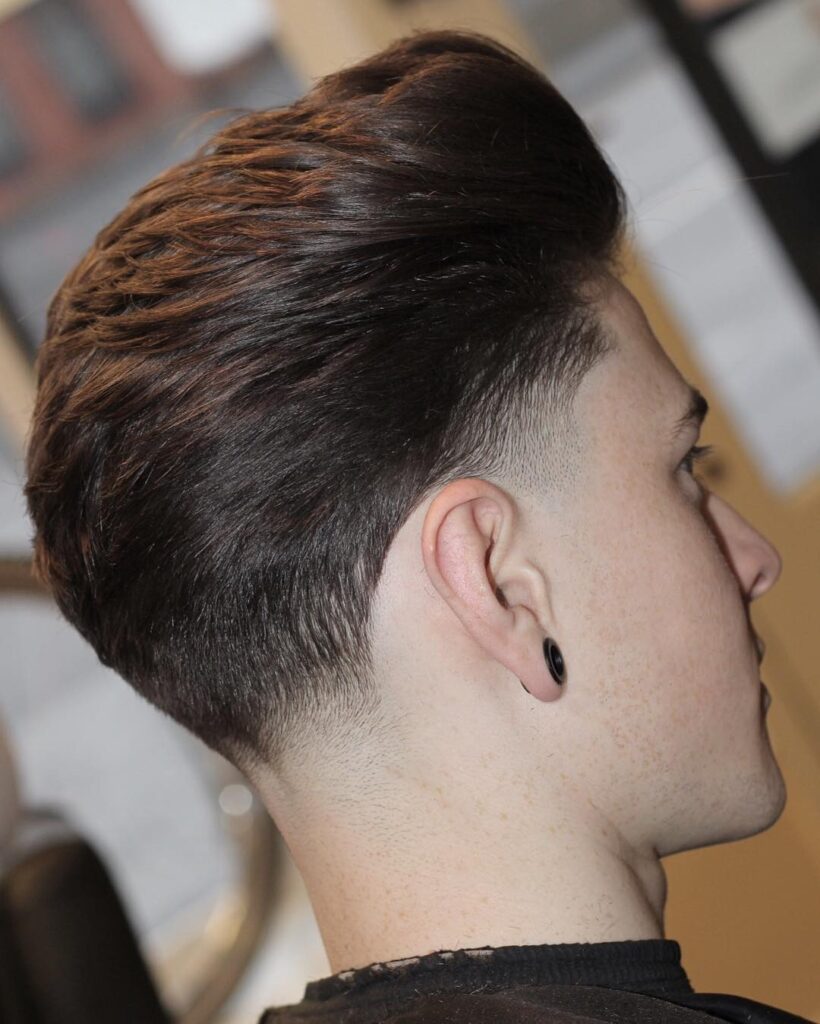 The thing about "long on the top, short on the sides" cuts like almost all the other hairstyles on this list is that most of them almost always use the fade…
But the whole idea behind a tapered haircut is that it makes the fadeless defined (if there's even a fade at all), and instead leaves the sides and back of the cut at a longer and more uniform length.
The main difference of a taper cut compared to other cuts is that the style is achieved with scissors instead of clippers, which gives it a more "naturally grown" look than a "straight-from-the-barber shop" swagger.
Generally, you're going to want to have a fair amount of hair on your head to get the tapered cut just right, and sometimes it's most stylish if you leave the sides and back as long as the top, just as long as you've got the locks for it.
Because it's a longer cut, you're free to do whatever you want to with the top, like swooping it back, quiff it up, or comb it over. All in all, a tapered cut is highly professional looking and is ideal for a man who consistently wears a suit. So if you want to look a little more business-like in 2020, a tapered cut might be exactly what you want.
2. The Hard Part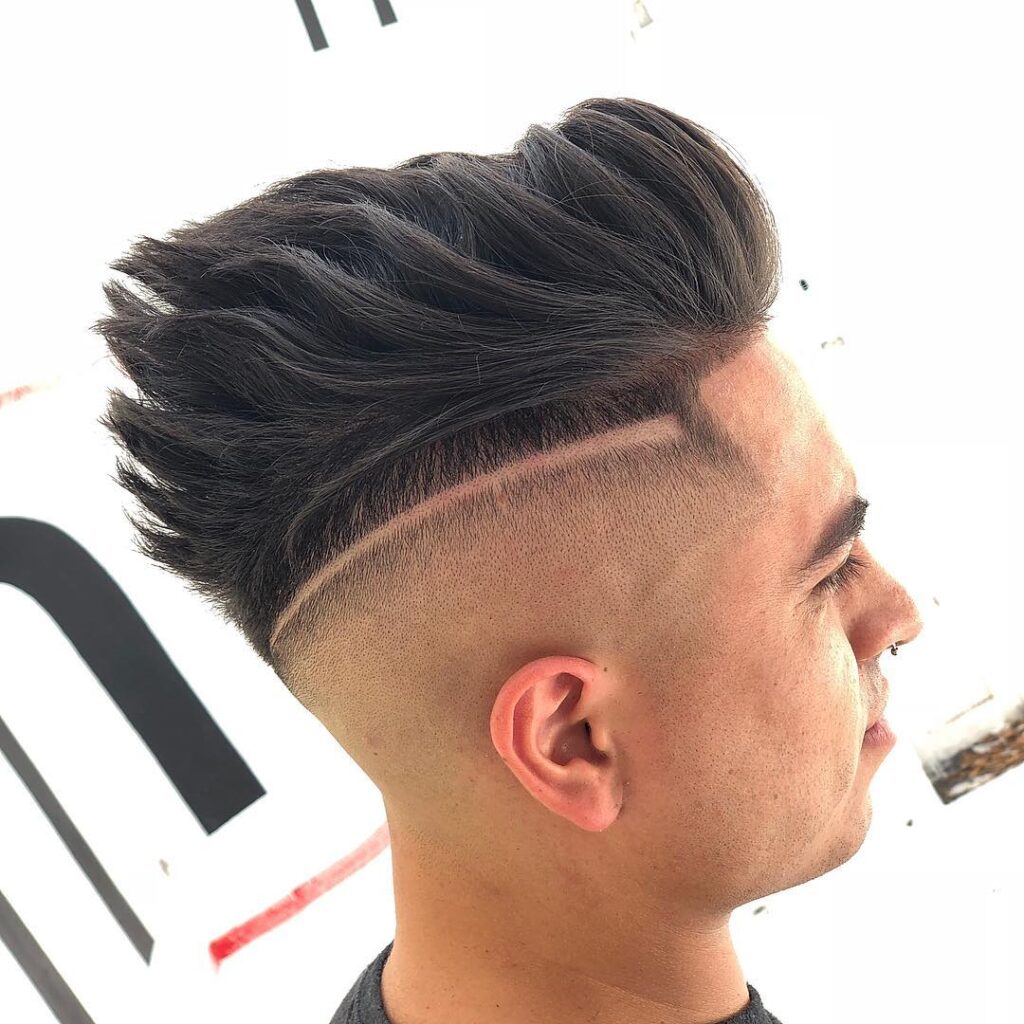 The hard part isn't exactly a hairstyle as much as it is an upgrade to any of the styles on this list, and it's become quite popular in 2018, which means it'll only get more popular this year.
So what is it? Well, a hard part is just like that classic part we talked about back in #6, but MUCH thicker and more defined, and as we said, it can complement any and all of the styles on this list.
So if you're going for a shorter style like the high and tight or crew cut, a hard part is a nice addition, but never necessary. The same goes for the Quiff and other longer styles.
It can accentuate your look like a unique and bold stylistic choice, and that's the thing… Hard parts are bold statements that can amplify any number of styles.
So if you're looking to make a statement this season, try a hard part and see where it takes you.
1. Let It Grow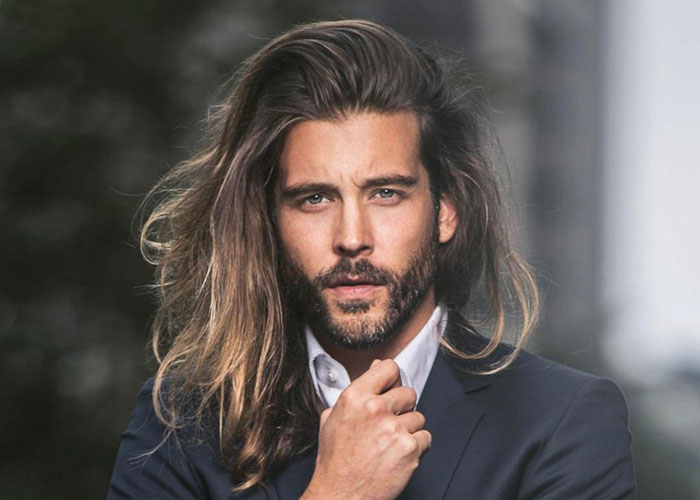 Man buns became extremely popular in the last decade, but they're slowly dying out and easy to make fun of these days.
But that doesn't mean long hair went out of style… Because the fact of the matter is: Long hair has NOT been stylish. So if none of the hairstyles on this list sound interesting to you. It might be time to say, "to hell with it" and start growing your hair out with absolutely zero ideas of where it'll end up.
Because like we said above, girls love guys with longer hair. Just look at how popular Jason Momoa has become. It's not just because he's super ripped.
"That long hair has a primal effect on women and it's hard for them not to find it ridiculously sexy".
We won't lie though. While growing your hair out, you're going to run into a roughly 6-month period where your long hair will look a bit unusual. During this time you'll ask yourself if you made the right choice, but if you can power through it, you'll realize you absolutely did.
After that half-year mark, you'll find that women miraculously find you more attractive and irresistible to look at, And you'll be getting dates left and right.
The one caveat to longer hair is something women have probably already mentioned to you: It's much harder to keep cool with longhair. It's why women frequently put theirs up in a ponytail.
But once you've reached the point of shoulder-length or longer hair, regardless of its frizziness or waviness, you're going to have an entirely different look about you that is highly attractive to women.
"Plus, whenever a girl asks if someone has a hair tie, you'll be the one to save the day"!
So if you're in no rush to find the perfect hairstyle this year, grow it out.
Those are the top 10 new hairstyles for men in 2020 that are certain to give you a stronger sense of style. So I hope you love these hairstyles! Comment below if u love the information or want me to upload more on fashion. Share this post, it will motivate me to create more posts like this for free.